A Living and Learning Community
As a Living & Learning community, the Cornerstone Program extends beyond the classroom to offer students an integrated experience of university life.
Cornerstone students live in designated dorms with other students in the program and are invited to take advantage of the many opportunities unique to a residential learning community:
Cornerstone Afternoon Tea hosted by the Director and attended by faculty
The Cornerstone Transformative Texts Film Series, featuring showings and discussions of films that engage with themes from the Gateway Courses
Annual Theatre Trip with faculty
Writing Center tutoring in a Cornerstone dorm
Professionalization workshops
Faculty Lecture Series
Faculty-led excursions to museums and historical sites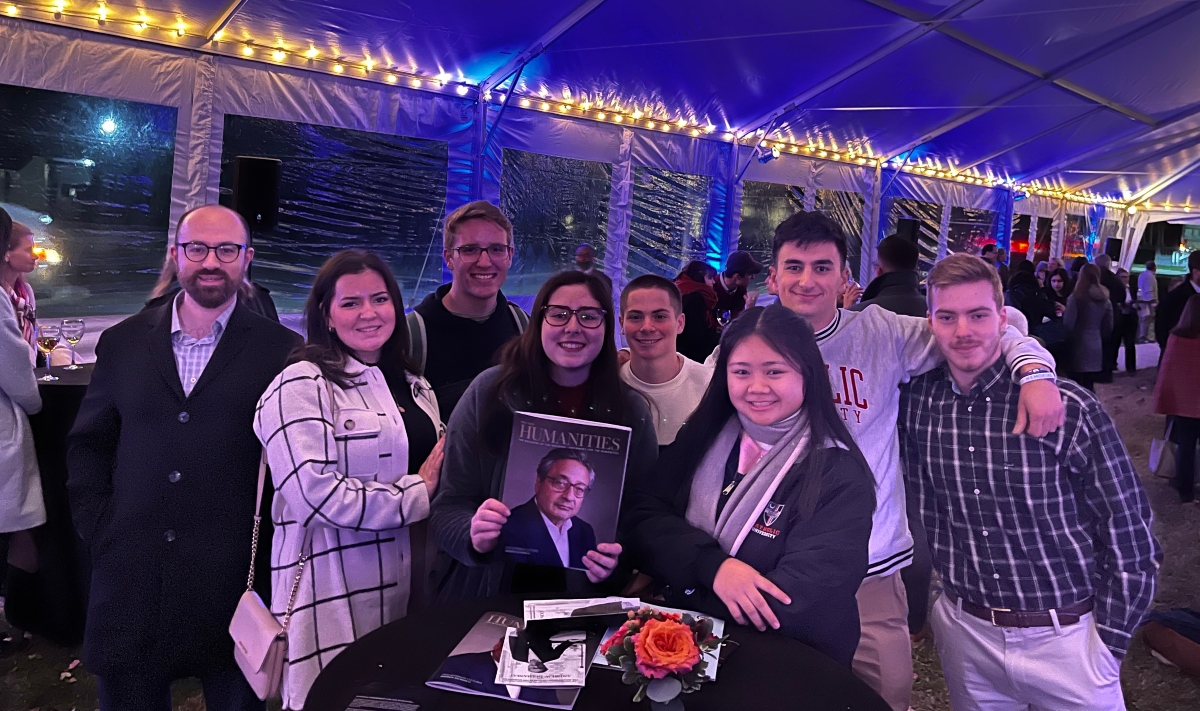 Cornerstone students attending the 2022 Jefferson Lecture in the Humanities at President Lincoln's Cottage
Student Leadership
In addition to offering academic and pre-professional support to students who seek to be leaders in their fields and communities, students are also crucial to shaping the future of the Cornerstone Program. 
Students are invited to join the Cornerstone Student Advisory Committee and the four Pathway Advisory Committees. Students on the SAC and the PACs represent the interests of students in the program, foster a sense of community among students, and plan events that serve the intellectual and social interests of their fellow Cornerstone students.
Current student-led activities include:
Cornerstone Book Group: a sreading group for Cornerstone students that examines great works of literature, philosophy, and political thought.
Baking Workshops: an opportunity to learn about the cultural history and science behind a specific baked good, before going through the hands-on process of making them together.
For more information about the SAC or PACs, please contact Dr. William Gonch (gonch@cua.edu).  
---
View this profile on Instagram
---